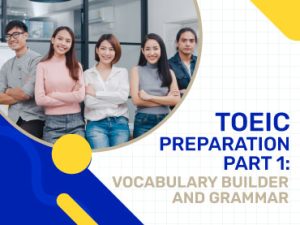 TOEIC Preparation Part 1:
Vocabulary Builder and Grammar
        This course will focus on vocabulary building and reviewing English grammar. The words from this lesson appear frequently on the TOEIC exam. The grammar part will include grammatical forms and word families of the words listed in the vocabulary. It will also cover verb forms, phrasal verbs, verb tenses, prepositions, pronouns, conjunctions, and idioms.
LO1 : Learner can identify the 10 most common word families.
LO2 : Learner can be able to recognize grammatical forms.
LO3 : Learner can be familiar with the vocabulary list to remember words more effectively.
LO4 : Learner can identify grammar and vocabulary directly linked to the international business environment.
LO5 : Learner can identify variety of grammar points and be familiar with different types of pronouns, verb tenses and usage, difference between adjectives and adverbs, preposition, phrasal verbs, and conjunctions
Assessment and Evaluation Criteria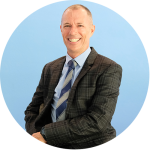 Assistant to the Dean for International Affairs and Student Development
Faculty of Hospitality and Tourism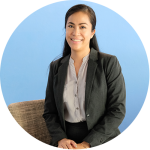 Veronica Aguilos Jamieson
Lecturer
Faculty of Hospitality and Tourism

Creative commons สัญญาอนุญาตสิทธิ์
"สื่อการสอนนี้เป็นส่วนหนึ่งของ PSU lifelong และเผยแพร่ภายใต้สัญญาอนุญาตสิทธิ์แบบ Creative Commons ด้วยเงื่อนไข CC BY NC SA"